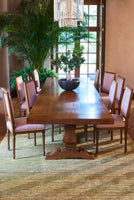 ABOUT OUR RUGS
All JONNMAR rugs are unique, handmade pieces that are woven in the traditional cross weave (Persian knot) or Tibetan patterns.
Self-employed weavers, from Nepal and India - and registered with the Goodweave organization - take between 3 and 7 months to weave these rugs.
There are no machines or mechanical looms used by the weavers; only traditional hand-knotted rugs can be found here.
Our wool is exclusively from the Himalayas, or from New Zealand, while our silk is strictly 100% Chinese, worm-spun silk. 
JONNMAR do not work with viscose, bamboo silk, 'art silk' or any other silk substitutes. 
Pile height, weave technique and knot count are all noted individually on each rug, so that a customer always knows exactly what they are getting.

At JONNMAR, only the very best will suffice.
GOODWEAVE